What's New for 2016
After a one-year hiatus, the Mitsubishi i-MiEV is back, this time with an optional Navigation package that bundles Bluetooth, a USB port, a rearview camera and steering-wheel audio controls.
Introduction
If most of your driving consists of short city commutes, you might be considering an all-electric vehicle. Charging stations are becoming more common and the prospect of an agile, peppy EV is certainly intriguing. The 2016 Mitsubishi i-MiEV offers the all-electric experience at a very appealing price, several thousand dollars below its closest competitors, in fact. But due to a few major drawbacks, it might not offer the ownership experience you're seeking.
While the 2016 Mitsubishi i-MiEV costs less than rivals, it's also significantly less practical. Limited driving range and long charging times are often concerns with EVs, and the i-MiEV is particularly challenged in both areas. The EPA's estimated range for this little EV is just 62 miles. Many competitors are well above that, with at least 80 or 90 miles before they run out of electrons. As for recharging times, the i-MiEV's outdated 3.3kW charger will need up to 22 hours to recharge a depleted battery pack when plugged into a standard 110-volt outlet. Mitsubishi claims that Level 2 and 3 chargers will recharge the i-MiEV battery much more quickly: about 7 hours with a 240-volt outlet and less than an hour with a Level 3 charger. Most rivals will recharge in less time, though, regardless of the power source.
On-road performance isn't a strength for the Mitsubishi i-MiEV, either. It's a small car with a short wheelbase and skinny tires, so you can fit it into some really tight parking spots. On the highway things aren't so peachy, as the i-MiEV has one of the slowest 0-60-mph times we've ever recorded in a modern automobile: 14.7 seconds. Once you're up to speed and no longer focused on the burdensome task of acceleration, comfort is at a premium. The ride is busy and rough, and quite a bit of road and wind noise makes its way inside the cabin. Adding insult to injury are the Mitsubishi's subpar interior materials, which surround you in the cockpit.
For all these reasons, you'll want to take a look at the 2016 Mitsubishi i-MiEV's competition. The Chevrolet Spark EV is marginally more expensive than the i-MiEV, but it offers an additional 20 miles of range and is about twice as quick accelerating to 60 mph. If you want something more upscale, the Nissan Leaf and Ford Focus Electric are notable for their smooth ride quality and high-quality interior materials, along with their quicker charging times and longer respective ranges. The Fiat 500e is another appealing choice thanks to its fun-to-drive nature.
None of the aforementioned electric vehicles will be quite as inexpensive as the 2016 Mitsubishi i-MiEV, but all are significantly more practical for day-to-day driving and offer more standard and optional equipment. For the majority of EV buyers, these attributes will be more valuable than pure cost savings.
Body Styles, Trim Levels, and Options
The 2016 Mitsubishi i-MiEV is an all-electric four-door hatchback with seating for four. It's available in a single ES trim level.
Standard equipment includes 15-inch alloy wheels, automatic headlights, foglights, heated side mirrors, full power accessories, air-conditioning, heated front seats, 50/50-split folding rear seats that also recline, a leather-wrapped steering wheel and shift knob, and a six-speaker sound system with a CD player and an auxiliary audio jack.
Also included are a Level 3 quick-charging port and a remote system that activates the climate control and the charging timer.
The optional Navigation package adds a 7-inch touchscreen, navigation, a rearview camera, Bluetooth phone and audio connectivity (known as the Fuse hands-free link system), steering-wheel audio controls and a USB port. Stand-alone options include rear parking sensors, blue LED interior lighting and a cargo net.
Powertrains and Performance
The rear-wheel-drive 2016 Mitsubishi i-MiEV is powered by a 49-kilowatt electric motor (66 horsepower and 145 pound-feet of torque) fed by a 16-kWh lithium-ion battery pack. There are three selectable driving modes: «D» for full power, «Eco» which limits power output to maximize economy and «B,» which increases regenerative braking but allows for full use of power. In Edmunds testing, the i-MiEV went from zero to 60 mph in 14.7 seconds, which is a very long time for any modern vehicle, even an electric one.
Driving range is an EPA-estimated 62 miles per charge. Other small electric vehicles typically have a longer range of about 75-85 miles. The EPA has given the i-MiEV an energy consumption estimate of 30 kWh per 100 miles rating (the lower the kWh number, the better), which is on par with competitors like the Nissan Leaf and Volkswagen e-Golf.
With the i-MiEV's 3.3kW onboard charger, it can take a long time to charge fully. Plugged into a 120-volt household outlet, the Mitsubishi takes 14-22 hours to reach a full charge, and in our testing, it was usually closer to 22. With an SAE Level 2 (240-volt) charging station, the EPA estimates the i-MiEV can be recharged in seven hours, though we found that the i-MiEV typically needed eight hours at a Level 2 charger. Mitsubishi claims that a Level 3 charger will restore the i-MiEV to 80 percent of a full charge in just 30 minutes, but these chargers are typically few and far between so you'll want to check your area for availability.
Safety
Standard safety equipment on the 2016 Mitsubishi i-MiEV includes antilock brakes (front disc, rear drum), stability and traction control, front-seat side airbags and side curtain airbags. It also features an «Approaching Vehicle Audible System» (AVAS), which alerts pedestrians that the i-MiEV is nearby by emitting a sound at low speeds. Rear parking sensors and a rearview camera are optional.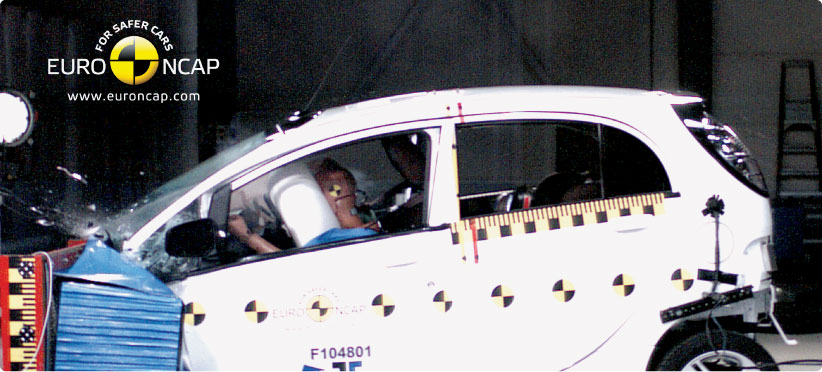 In Edmunds brake testing, an i-MiEV came to a stop from 60 mph in 120 feet, which is a good performance for an EV. In government crash testing, the i-MiEV received four out of five stars for overall protection, with four stars for total frontal-impact protection and three stars for total side-impact protection. The lower side-impact score is the result of excessive rear door panel intrusion during testing, suggesting an elevated risk of torso injuries for passengers riding in back.
Interior Design and Special Features
Some electric cars try to hide their power source by making the cabin look as similar to gasoline-powered counterparts as possible. Others highlight the electric powertrain with funky dials, buttons and gauges, and with some success. The 2016 Mitsubishi i-MiEV doesn't pull off either of these tricks. Hard plastics abound, and the plain, no-nonsense presentation of its dash and controls is more in keeping with bargain-priced subcompacts than anything else.
The Mitsubishi i-MiEV's tall body offers ample headroom, but the driving position is awkward and legroom is tight for taller adults, who will likely run out of seat-track travel. Legroom is also a problem in the backseat, and the seats themselves are flat and not very supportive.
With just 13.2 cubic feet of space behind the backseat, the i-MiEV has less cargo capacity than most of its rivals, though there's enough room to squeeze in your golf clubs or a standard-sized suitcase. The picture improves with the rear seats folded; cargo capacity expands to a healthy 50.4 cubic feet. The VW e-Golf and Kia Soul EV offer similar capacity with their rear seats folded.
Driving Impressions
Driven in city traffic, the i-MiEV has some pep off the line, and low speeds and frequent stops help maximize its range. Cruising at 65 mph on the highway quickly depletes the i-MiEV's batteries, though. We achieved a top speed of 81 mph in the Mitsubishi i-MiEV, which is not particularly fast but adequate for most U.S. cities. The bigger issue is the car's struggle to get up to speed when merging into expressway traffic. This, along with the i-MiEV's limited range, underlines the reality that this electric hatchback is best suited for driving in the city, rather than commuting from the suburbs.
Like all electric cars, the 2016 Mitsubishi i-MiEV has a relatively quiet cabin. There's a distinct sound from the electric motor that kicks in when you accelerate hard, but for the most part, the cabin remains quiet enough to allow for easy conversation around town. Once you're on the highway, though, there's a noticeable increase in wind and tire noise. Comfort is an issue too, as the i-MiEV has a busy, often bouncy ride unless you're traveling over perfectly smooth pavement.